Hi,
I'm looking into Duplicacy as something i could use for interested clients, in this process it would be nice if we can customize the look and feel and maybe even do unattended installations?
1. Customization
I'm struggling without the Customization as explained here:
https://forum.duplicacy.com/t/customization-of-the-web-gui/3485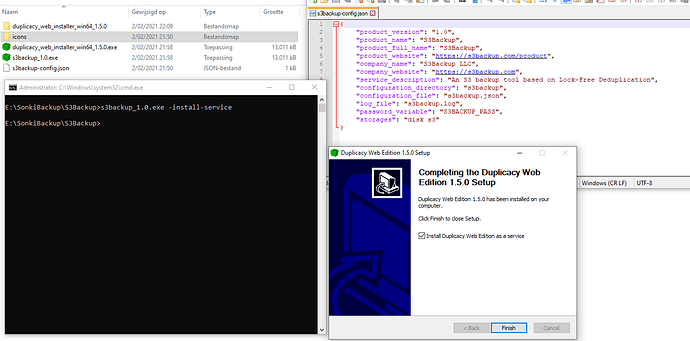 There is only one file in the icons path:
\icons\product-icon.png
Unfortunately the installer doesn't use the config.json.
Based on: No name change, no custom logo, no custom provider, …
Log file content:
2021/02/03 13:54:27 Created a new configuration.
2021/02/03 13:54:27 A new license has been downloaded for TESTPC
2021/02/03 13:54:27 Temporary directory set to C:\ProgramData/.duplicacy-web/repositories
2021/02/03 13:54:27 Duplicacy Web Edition 1.5.0 (baff49)
2021/02/03 13:54:28 Downloading the CLI executable from https://github.com/gilbertchen/duplicacy/releases/download/v2.7.2/duplicacy_win_x64_2.7.2.exe
2021/02/03 13:54:29 Duplicacy CLI 2.7.2
Any idea what I'm doing wrong?
2. Unattended
Is there a command line option to uninstall the webGUI unattended?
Kind regards,
Jim