Hi everyone,
Thanks very much for the detailed documentation and forum posts!
With these, I have already used
CLI to set up automated, deduplicated, encrypted, and incremental backups from my local laptops/desktops to different cloud storages. I've been reading the Wiki on GitHub and have even configured RSA-based encryption and Erasure coding successfully.
I was asked by @gchen to post this question on the forum as the community may be best placed to advise on Google Drive specifically. The issue I'm experiencing is with authenticating Google Drive as a storage backend on a Google Account with 'Advanced Protection Program' enabled:
Is it possible to keep Google's Advanced Protection Program enabled and use
with Google Drive or can anyone advise on their experience with this?
As this is a 'normal' Google account I don't have an admin panel so what I've read about the service account alternative isn't an option as far as I'm aware and this may still have the same issue with 'Advanced Protection Program' enabled.
Using the Google Drive for Duplicacy link in the 'Storage Backends' page on GitHub to generate/request a token file results in the below error: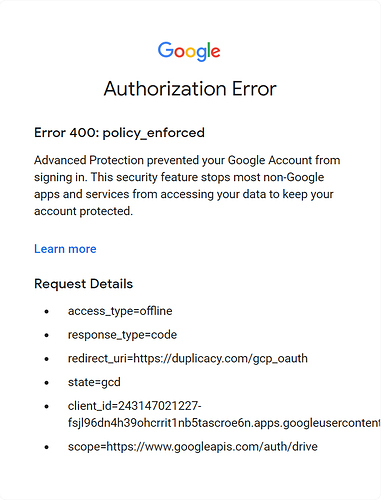 Thanks very much for your help!